INBOARD ELECTRIC MOTOR SYSTEM
An E-volution for the electric boat market
This plug & play, easy to install, powerful motor can fit any kind of boat including retrofits. It is best suited for fast boats from 20 to 50ft. This robust system offers up to 800 hp at peak, and world leading speed and range capabilities.
Making it not only the fastest electric motor available in the market but THE solution making the shift to more sustainable boating possible.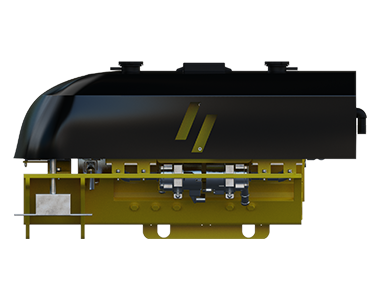 Evoy®'s turnkey inboard electric system is a robust system designed for +1000 hours per year. Due to the over-the-air updates and programmable system, we can monitor, troubleshoot and update the software onboard. The system is virtually maintenance-free and very affordable to use. The system can be connected to a z-drive, water jet, or shaft. It is a high-output motor best suited for boats 25-35 ft for single installments and 30-50 ft for double installments. The system will be available as 120+ HP, 200+ HP, 300+ HP, and 400+ HP. The last mentioned is available today.
Designed for the toughest conditions
The 100% electric Evoy® high-output motor system has been designed and tested for use in the world's toughest environment – the coast of Norway. With up to 800 horsepower you will never be short on power.
An eco-friendly experience
Significant less sound disturbance than fossile technologies. With the connected Evoy® system, an open OTA, and the benefit from automatic software and firmware updates means almost no visits to the maintenance shop.
The freedom of electric boating
Recreational boating for many Norwegians has a significant value for their quality of life. Worldwide, leisure or commercial  boating is associated with values such as freedom, nature experiences, exploration, and public health. Electric boating will amplify the feeling of freedom as the quiet motor and no fumes will bring you even closer to nature.  
A vision to reduce boating emissions
Boats emit 10-15 times as much CO2 as cars traveling the same distance, and globally smaller boats only stand for +50m tons CO2 every year. Knowing this gives Evoy a great motivation to accelerate the transition to electric boats to ensure a significant contribution to reducing global emissions. We want you to have peace of mind using our long-lasting and sustainable electric motor systems which gives you the opportunity to be part of making our oceans clean again.

This project has received funding from the European Union's Horizon 2020 research and innovation program under grant agreement No 101010233
How reliable is electric propulsion ?
Electric propulsions systems are highly reliable. The reason for this is the simplicity of an electric motor linked to our marine electric management system. Simply put, our system has four moving parts, whilst on average a combustion engine has over 2000 parts.
How long does it take to charge ?
Our standard AC Charging system can charge with about 100 kW system can charge a standard Evoy® system (a 100kWh battery) in about hour if there is an AC outlet big enough to support the onboard charger. Whilst our DC supercharging 300kW system can be charged in less than 30 minutes.
is there any incentives available for electric boats ?
For businesses in Norway, there is an incentive program for through Enova which supports commercial crafts with more than 100.000 kW use /25 tonn CO2 emissions with up to 50 % of additional cost. In addition to support for the system itself there is also up to 40 % support for infrastructure and project costs. Evoy® can help with Enova application and submission.
Check with your local government in your country if they have any incentive packages. 
What are the benefits of electric propulsion ?
Silence, zero emissions and low operating costs are the core benefits. 
This is fully dependent on the boat and the size of the system that you put in it. However, with today's battery technology you can expect between 25 to 50 nautical miles at a planing hull speed. At a slower speed, below hull speed (approximately 5 knots for a 25-footer), this range can be quadrupled.