Evoy® Inboard
Electric Motor System
An E-volution for the electric boat market
This plug & play, easy to install, powerful motor can fit any kind of boat including retrofits. It is best suited for fast boats from 20 to 50ft. Evoy® systems achieves up to 800 hp at peak and world leading range capabilities, making it not only the fastest electric motor available in the market but the go to solution as you are making the shift to sustainable boating.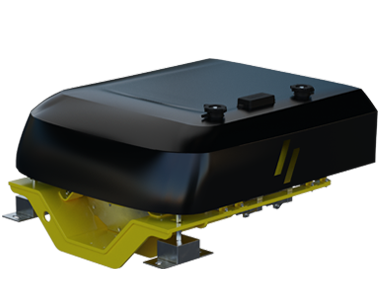 A clean, connected, more powerful electric inboard system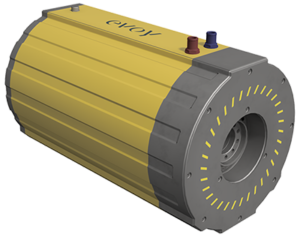 Designed for the toughest maritime conditions. 
The 100% electric Evoy® high output motor system has been designed and tested for use in one of the world's most challenging boating environments: the west coast of Norway, our HQ. And with up to 800 hp you will never be short on reserve power. 
Evoy®'s 400+ hp electric propulsion system is programmable, liquid-cooled, and holds the highest rating of IP69K and is CE compliant. These motors are designed from the ground up to be fully sealed and suitable for very tough conditions. Weighing in at only 150 kilos the unique weight-power ratio of the motor was previously unheard of in the maritime industry. 
3000 Charging Cycles  
The batteries have been tested and approved according to stringent DNVGL safety regulations. The batteries are IP67 waterproof and designed for 3000 charging cycles with 70% DOD.  
 Choose between 60, 120 or 180 kWh battery packs.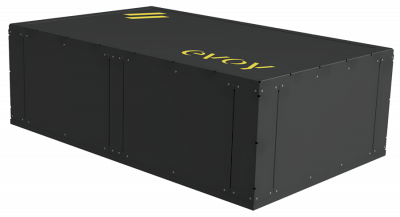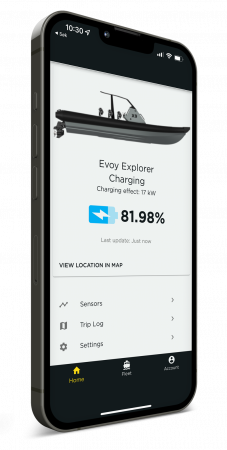 Enjoy complete overview of your boat from the comfort of your couch. The Evoy control system is connected 24/7. This means that we can show you near real time information about your boat as well as put you in complete control from the palm of your hand. 
GPS 
Monitor the position, speed and heading of your boat at any time. 
Charging management 
Know your boat's current state of charge, set charging threshold, start or stop charging. Manage charging directly from your phone without needing to be near the boat. 
Sensor readings 
Don't worry about the starter battery draining, again. See current and historical values for starter battery voltage. More sensors and possibility to set up alerts coming soon. 
Trip log 
Your trips will automatically be recorded. See all your trips. Where you went, how fast you drove and how much energy you used. 
Share boat access  
Multiple users? No problem. Share boat access from our app. And unshare it. 
Charging log (coming soon)  
Borrowed some energy at a friends house? Get full overview of your charging. When, where and how much did you charge.  
CO2 impact (coming soon)  
By driving an electric boat, you have zero emission while driving. See how much CO2 you are saving compared to a diesel or petrol boat. 
Geofencing (coming soon)  
Get notified if you boat drifts or travels outside of a pre-defined area. 
Complete control in the palm of your hand
Evoy®'s High Contrast TFT Touchscreens make your e-boating experience a treat. With the option of 10" or 16", single or dual screens you are able to move physical buttons to the screen. 
• Weather updates
• FM / DAB radio / radio
• Full Marine Navigation
• Bluetooth
• WiFi & 4G
• Over-the-Air updates
• NMEA support
• Real-time motor/battery status
• Charging Management
• Monitor cost and CO2 savings
• Triplog
• WiFi & 4G
• Echo-sounder w/data dashboard visualization
• Automatic Identification System (AIS) for traffis monitoring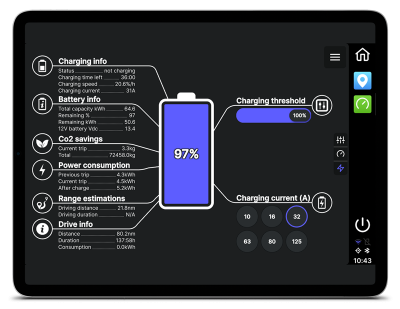 Evoy®'s vision is to deliver an irresistible and emission free boating experience
Boats emit 10-15 times as much CO2 as cars traveling the same distance, and globally smaller boats only stand for +50 million tons CO2 every year. We want you to have peace of mind using our long-lasting and sustainable electric motor systems which gives you the opportunity to be part of making our oceans clean again. 
The benefits that come with switching to electric don't stop there.

How long does it take to charge?
Our standard AC Charging system can charge with about 100 kW system can charge a standard Evoy® system (a 100kWh battery) in about one hour if there is an AC outlet big enough to support the onboard charger. Whilst our DC supercharging 300kW system can be charged in less than 30 minutes. 
What incentives are available?
For businesses in Norway, there is an incentive program for through Enova which supports commercial crafts with more than 100.000 kW use /25 tonn CO2 emissions with up to 50 % of additional cost. Fishery and fish farming boats can receive up to 50% funding regardless of power/emissions. In addition to support for the system itself there is also up to 40 % support for infrastructure and project costs. Evoy® can help with Enova application and submission. 
This is fully dependent on the boat and the size of the system that you put in it. However, with today's battery technology you can expect between 15 to 50 nautical miles at a planing hull speed. At a slower speed, below hull speed (approximately 5 knots for a 25-footer), this range can be quadrupled.