Evoy® Breeze Outboard
Electric Motor System
This one's a game changer for recreational boaters
Evoy Breeze 120+ hp outboard motor sets a new standard in the industry. The continuous power minimum is 120+ hp – usually significantly higher – while peak power is an impressive 185 hp. Robust design (IP66) for use in fresh and saltwater environments. Best suited for 12-25 ft single installation and 23-30 ft for double installations. 
Be ready to turn heads on the water with this fantastic looking motor on the back of your boat.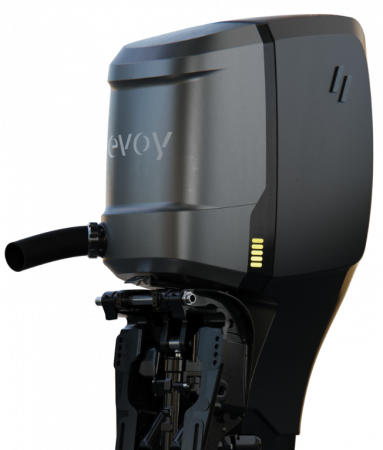 A clean, connected, powerful electric outboard system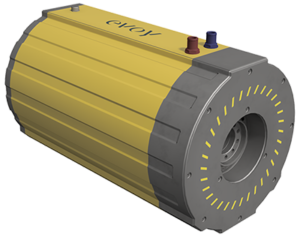 Worry Free Electric Boating
The Breeze outboard motor has 3kW AC charger as standard with options to upgrade to 22 kW or 44 kW for faster charging. As standard our systems are fully compatible with DC charging enabling up to 200 kW supercharging. Range is highly dependent of course on the speed and the boat weight and design (not to mention sea conditions). With 63 kW you can expect up to 30 nm in planing underway speed. At 5 knots expect 12 hours. 
3000 Charging Cycles 
The batteries have been tested and approved according to DNVGL strict safety regulations. The batteries have IP67 waterproofing and Liquid Cooling. Designed for 3000 charging cycles with 80% DOD. Choose between 60, 120 or 180kWh battery packs.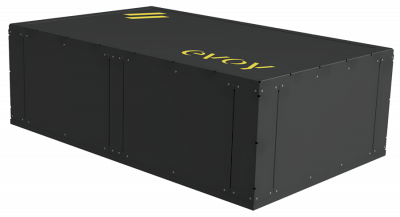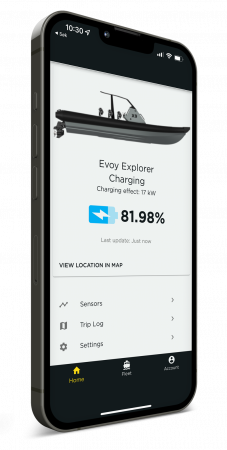 Enjoy complete overview of your boat from the comfort of your couch. The Evoy control system is connected 24/7. This means that we can show you near real time information about your boat as well as put you in complete control from the palm of your hand. 
GPS 
Monitor the position, speed and heading of your boat at any time. 
Charging management
Know your boat's current state of charge, set charging threshold, start or stop charging. Manage charging directly from your phone without needing to be near the boat. 
Sensor readings 
Don't worry about the starter battery draining, again. See current and historical values for starter battery voltage. More sensors and possibility to set up alerts coming soon. 
Trip log 
Your trips will automatically be recorded. See all your trips. Where you went, how fast you drove and how much energy you used. 
Share boat access  
Multiple users? No problem. Share boat access from our app. And unshare it. 
Charging log (coming soon)  
Borrowed some energy at a friends house? Get full overview of your charging. When, where and how much did you charge.  
CO2 impact (coming soon)  
By driving an electric boat, you have zero emission while driving. See how much CO2 you are saving compared to a diesel or petrol boat. 
Geofencing (coming soon)  
Get notified if you boat drifts or travels outside of a pre-defined area. 
Complete control in the palm of your hand
Evoy®'s High Contrast TFT Touchscreens make your e-boating experience a treat. With the option of 10" or 16", single or dual screens you are able to move physical buttons to the screen.
• Weather updates
• FM / DAB / radio
• Full Marine Navigation
• Bluetooth
• WiFi & 4G
• Over-the-Air updates
• NMEA support
• Real-time motor/battery status
• Charging Management
• Monitor cost and CO2 savings
• Triplog
• WiFi & 4G
• Echo-sounder w/data dashboard visualization
• Automatic Identification System (AIS) for traffis monitoring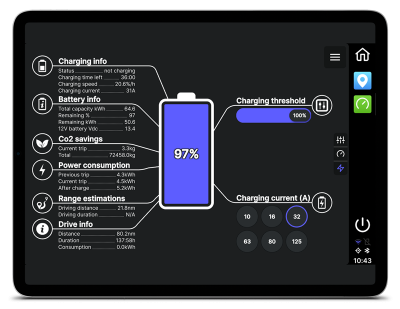 • No emissions, odors or sound
• Very affordable to use
• High-capacity DC fast charging
• Typical 50-100 nm in slow speed
When will it be available in my area?
Available for order in Europe today. North America slated by year end. Rest of the world in 2023. We welcome your inquiry regardless of where you reside. 
Tell me about the batteries?
The outboard batteries have been tested and approved according to strict CE safety regulations. The batteries have IP 67 waterproofing and have been designed for 3000 charging cycles with 70% DOD. 
Glad you asked. With our software we can monitor your boat 24/7. We offer our customers Over-The-Air software updates. This allows for easy ongoing diagnostics and maintenance as well. We also provide a screen for the steerage onboard. Evoy® onboard and in the palm of your hand.