Electric Boating is Here. Today. And to prove it…
Leif and Trond set out on a 250+ nautical mile journey in an Evoy powered Goldfish X9, from our HQ in Florø to Stavanger, with many stops along the way to visit current and potential customers. Over 80 people enjoyed a demo drive. 
Text by Evoy team member Kelly Moulton
Trond said the trip beat all expectations! "Boat and system worked perfectly, through sun, flat water, winds, heavy waves, and even one day we woke up at 6 am to scrape ice off the windshield. Once we even had the propeller out of the water due to the challenging conditions but she really behaved beautifully through the water." 
And then he could not help but add with a chuckle: 
"And another thing – it has been a long time since I or Leif ever turned a head for any reason, be it in a bar or in the harbour. But when you come gliding into a harbour without a sound in your Evoy powered Goldfish, well, let's just say we enjoyed some attention." 
Boaters love boats, and they are clearly fascinated about the idea of going electric. So we spoke to many many interested boaters along the way in addition to our scheduled appointments with potential and current customers. 
But what about charging? I asked.
"Well in Bergen and Stavanger they have proper charging facilities for us, but otherwise people were more than happy to help us along the way from port to port." 
Leif is scraping ice and snow off the windshield – press to play video.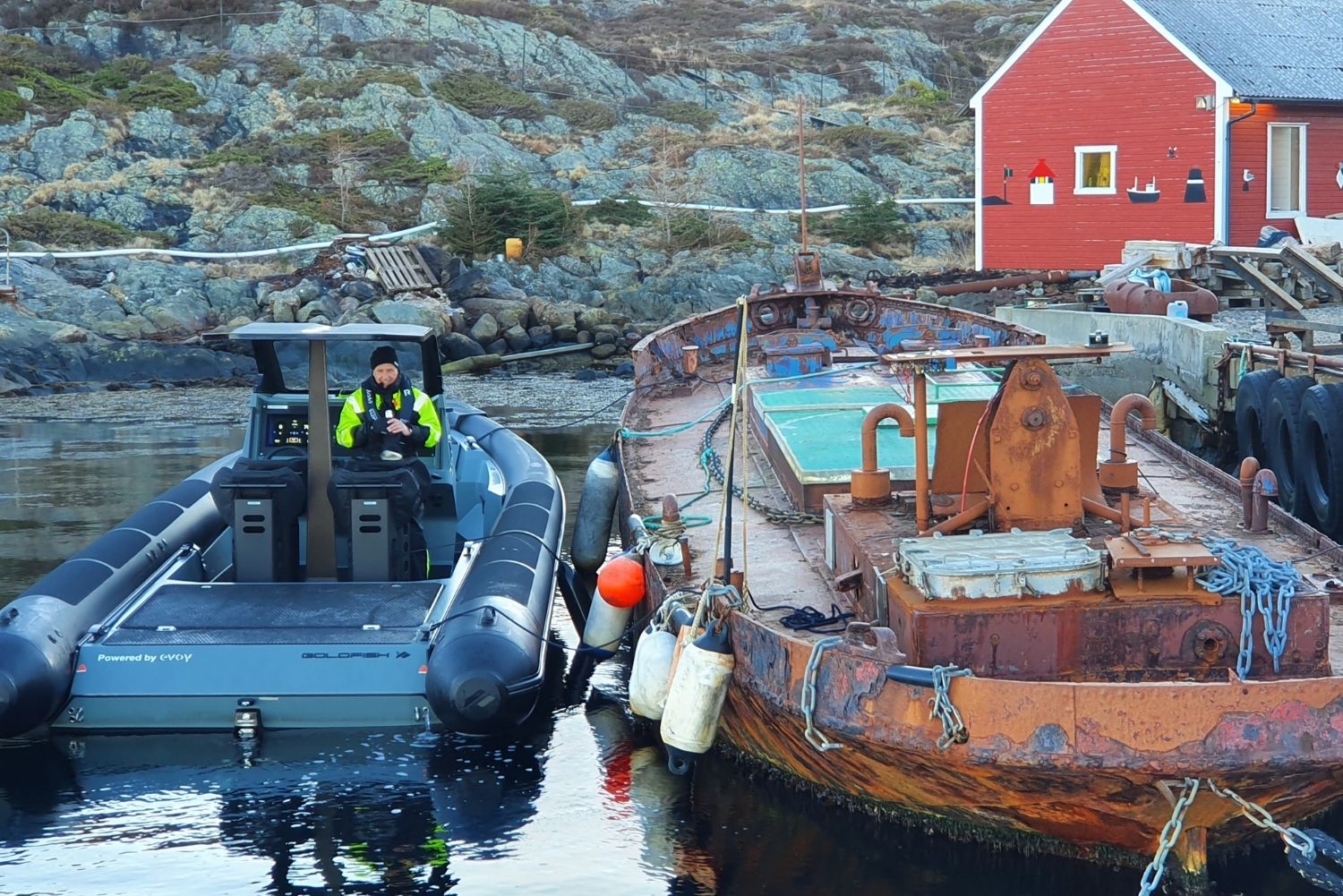 New meets old. Charging station at fantastic Lågøy in Solund. 
You need to think like a sailor if you are an Evoy boater today, essentially. Think through your route. Be very aware of the weather conditions. Allow proper time for your journey. 
Trond was covering nearly 20 nautical miles at a very healthy clip of 35 knots before he began to think it was time to charge, but obviously got quite a bit more range when he brought the speed down to, say, 5 knots.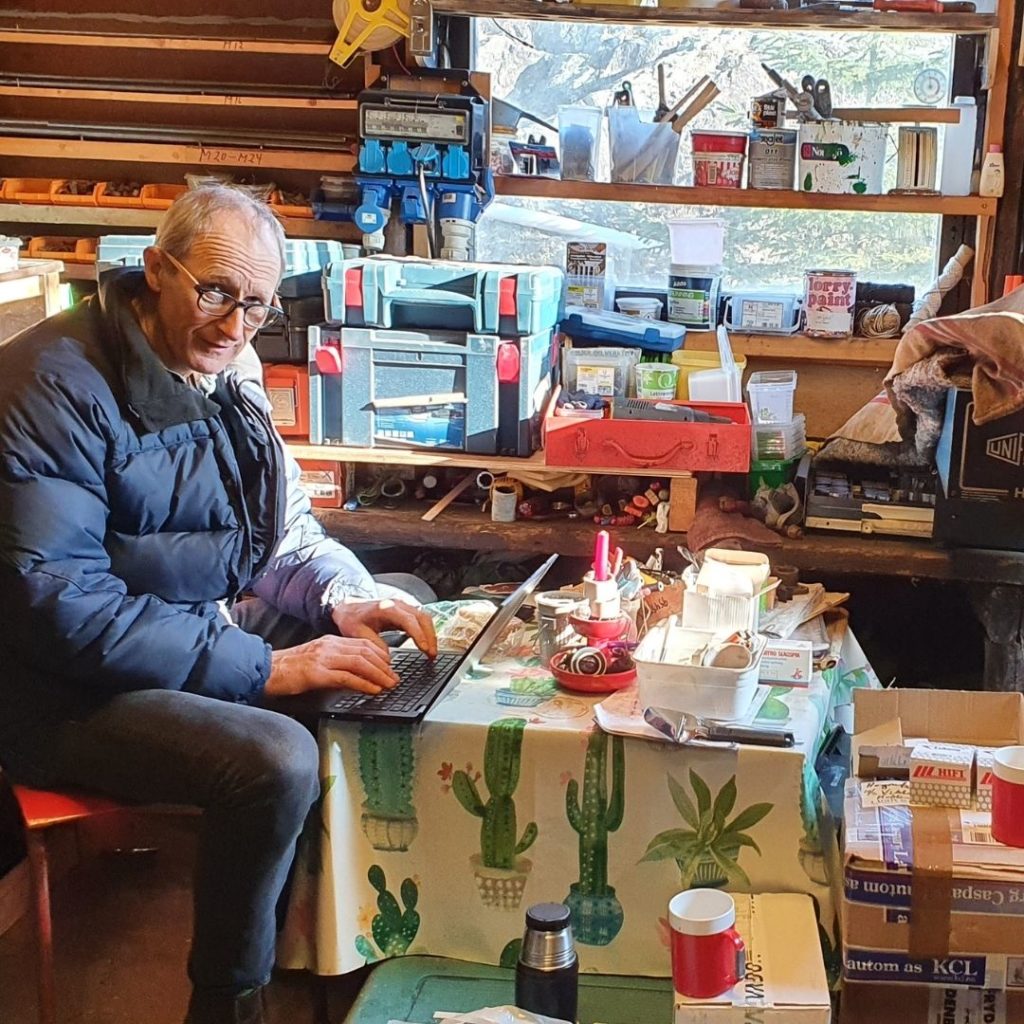 Trond doing work in an island workshop office while charging the boat.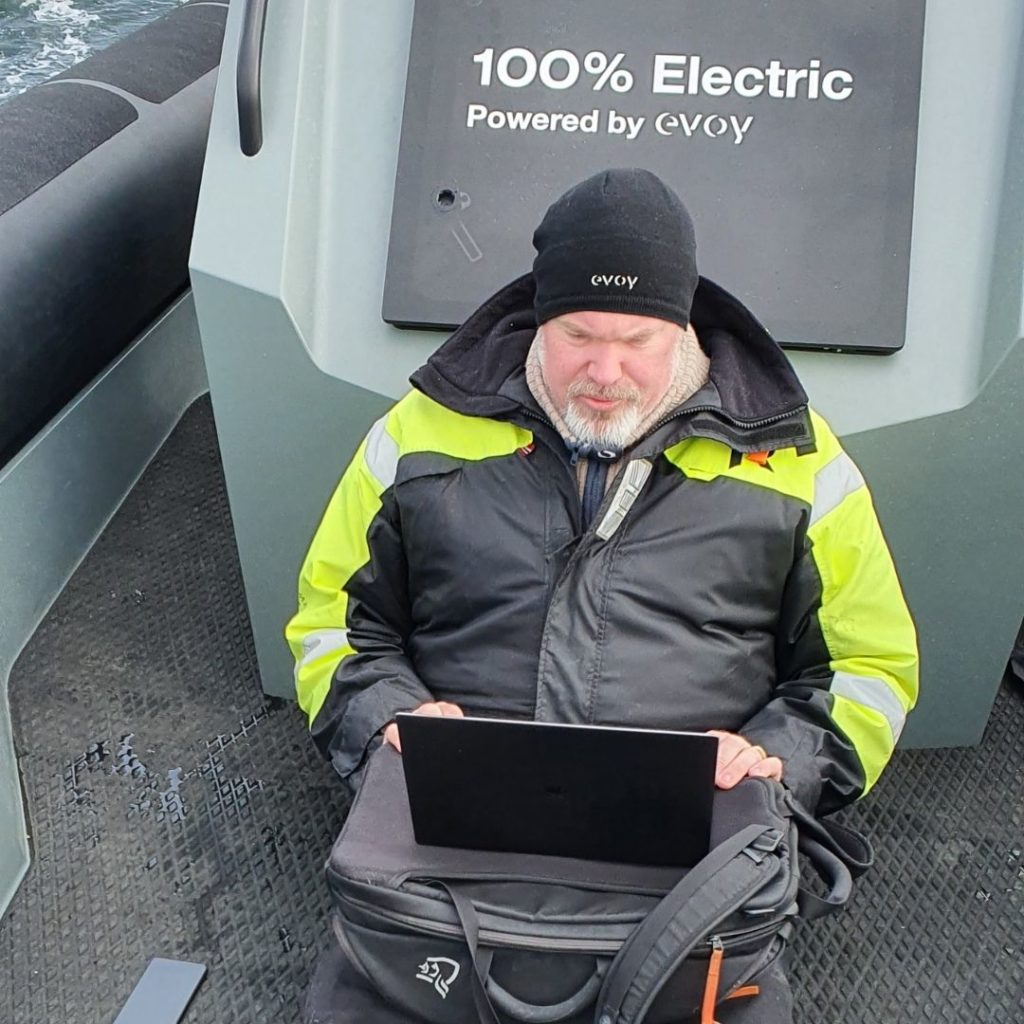 Leif in board meeting at sea
I myself am a boater, and the reality is that 90% of my trips are less than an hour (often 30 minutes) to a few common ports of call – the local marina. A restaurant in an island across the fjord. Into Bergen for dinner. To an island with the family for a daytime picnic. With cars we all experienced the same concerns about range and how often you would need to stop for charging – and then, we all realized most of our trips in the car are to town and back. To the school and back. No need to worry about your range and charging. It will be the same with boating, particularly as the investment in electric boat charging infrastructure being done by our partners like Plug and Aqua Superpower continues to roll out in the coming months and years.  
Yes, Trond and I agreed, that one of the biggest needs is infrastructure for charging, but mass electric boating will be here sooner than you think – just like what happened with electric cars in Norway just a few years ago. 
But we thought with this piece, a picture will speak a thousand words so rather than writing too much more we invite you to enjoy an Evoyage collage and see the video reaching Stavanger.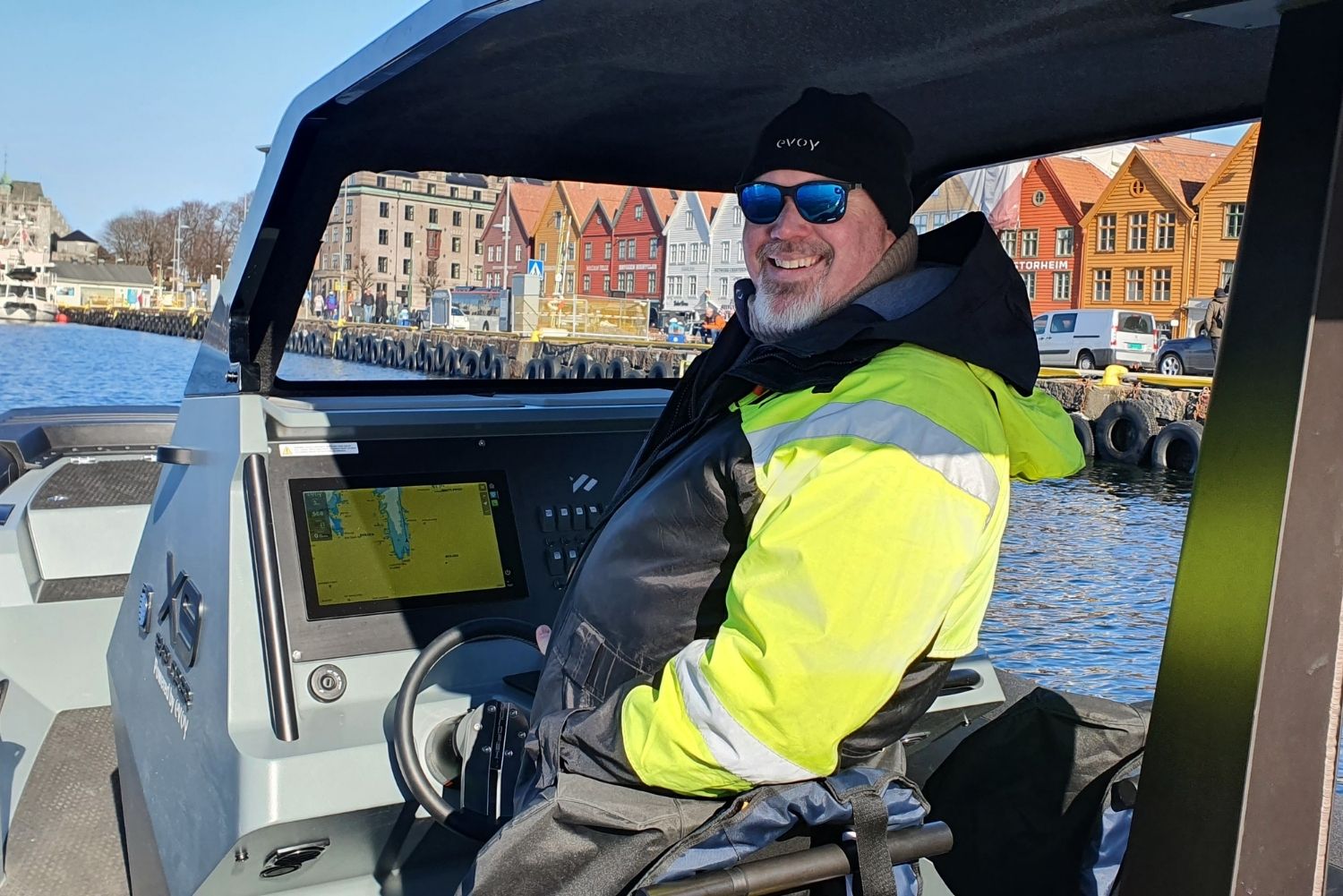 Leif is happy to show the "Evoy Explorer" off in Bergen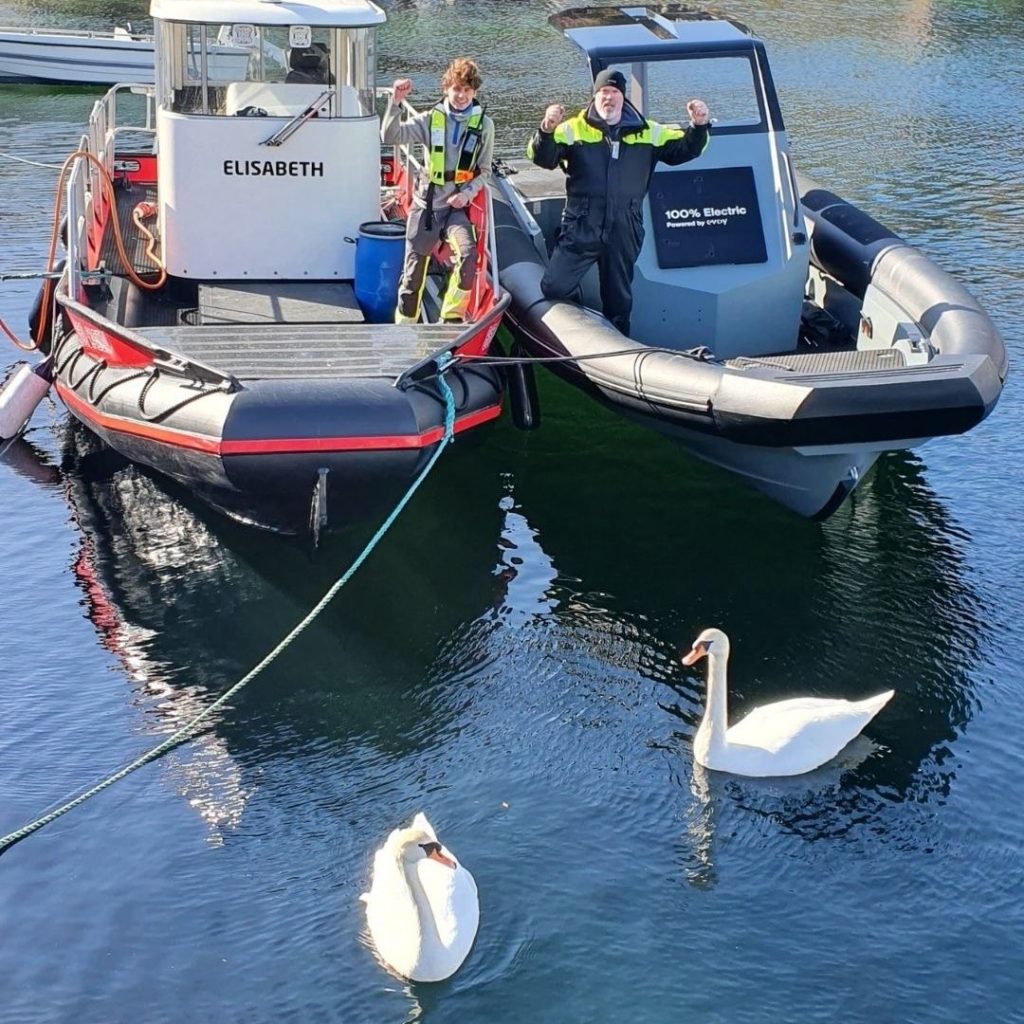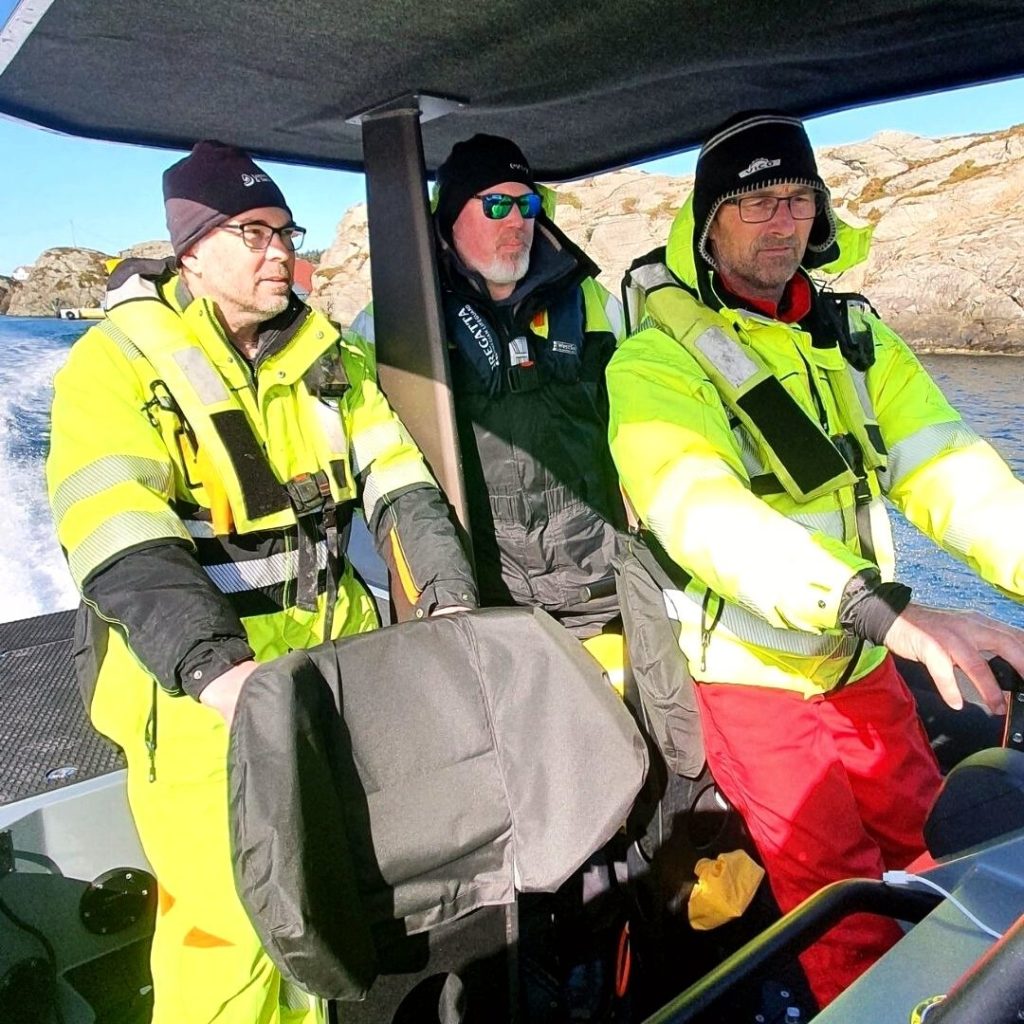 Once you try an electric boat you instantly understand the great benefits.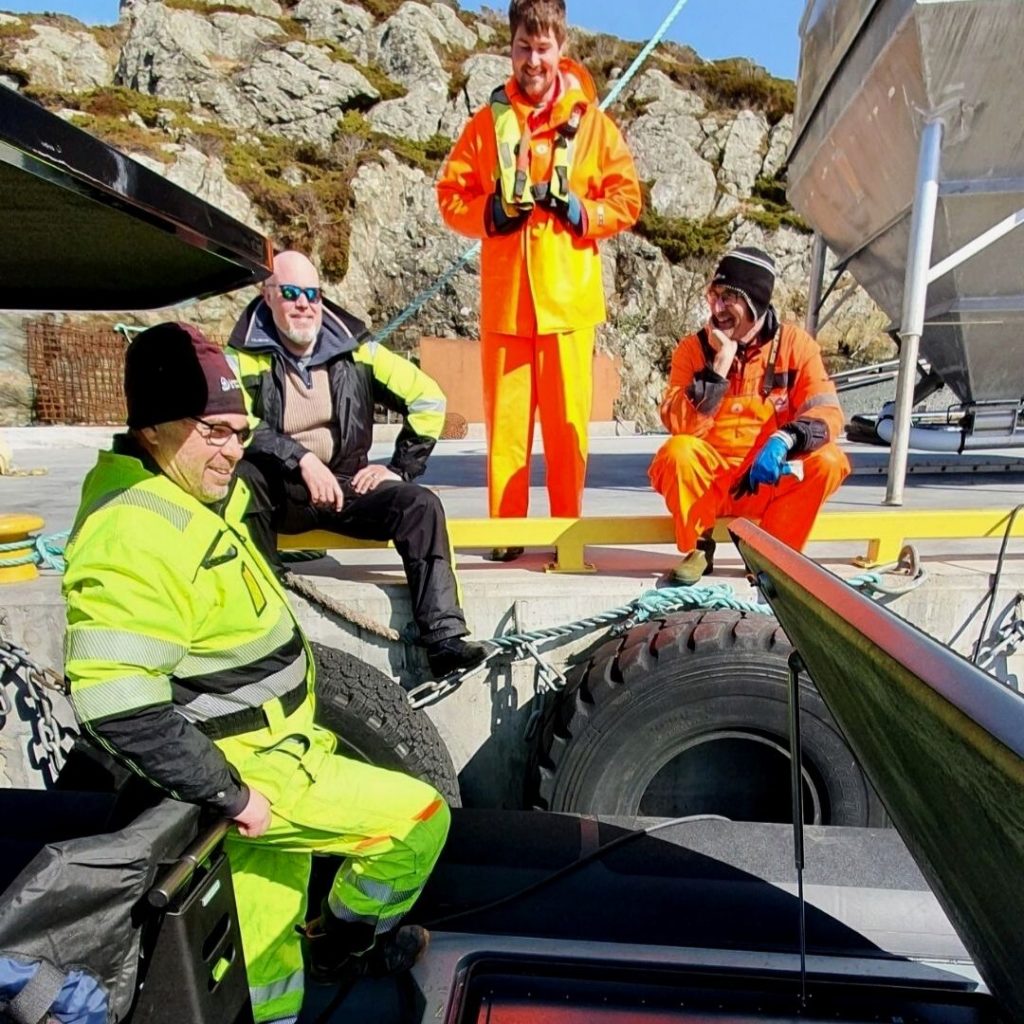 Educating about the future of boating and the benefits of going electric for Røvær Fjordbruk.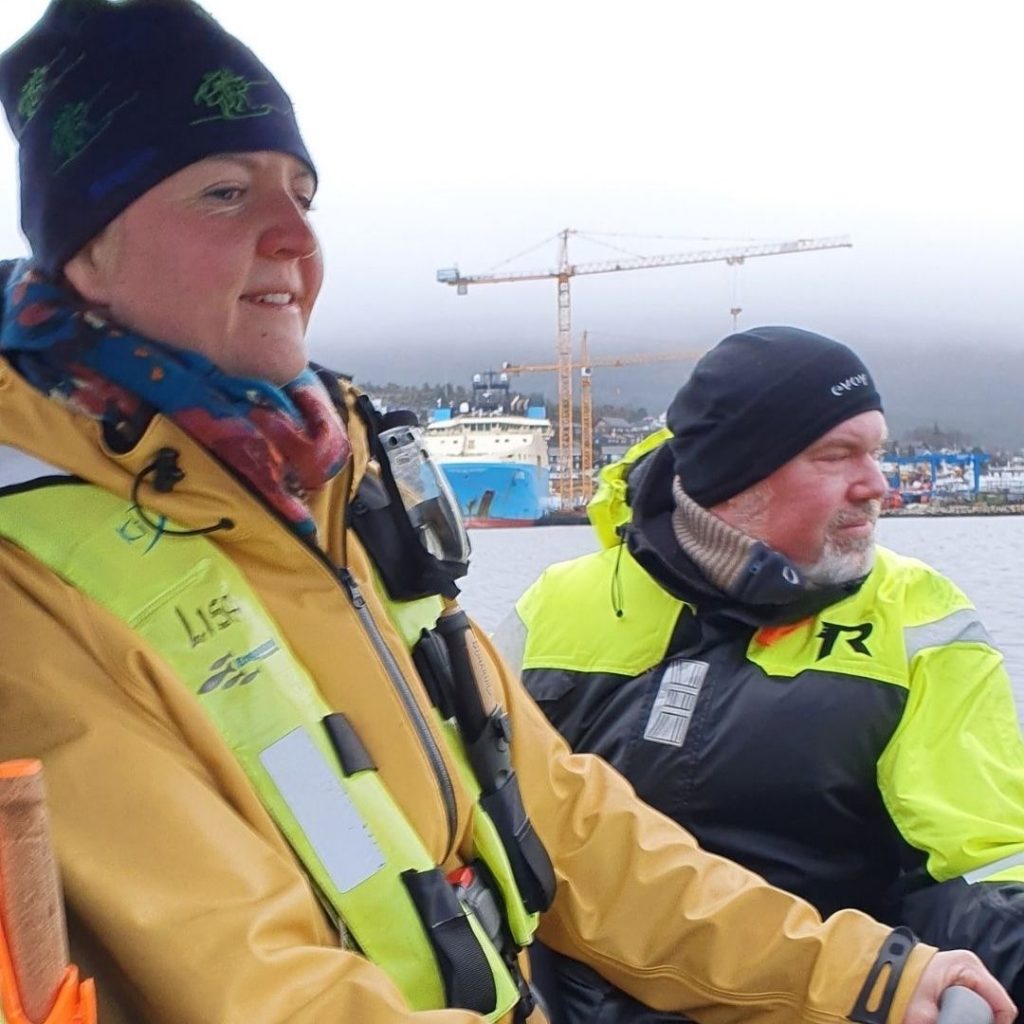 Both women and men were excited to reach the "Evoy's electric 50+ knots club"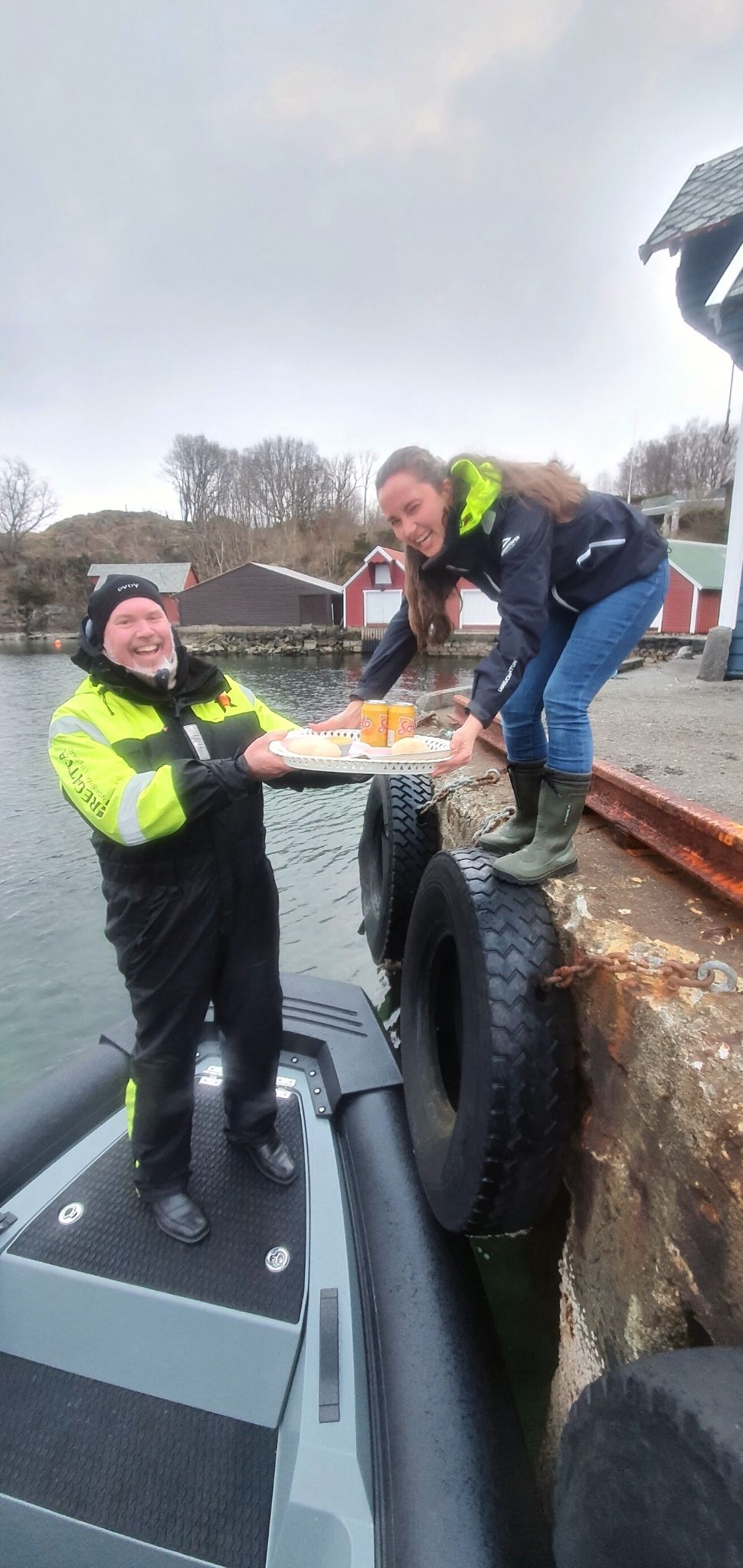 Some get breakfast delivered in bed others in an electric boat.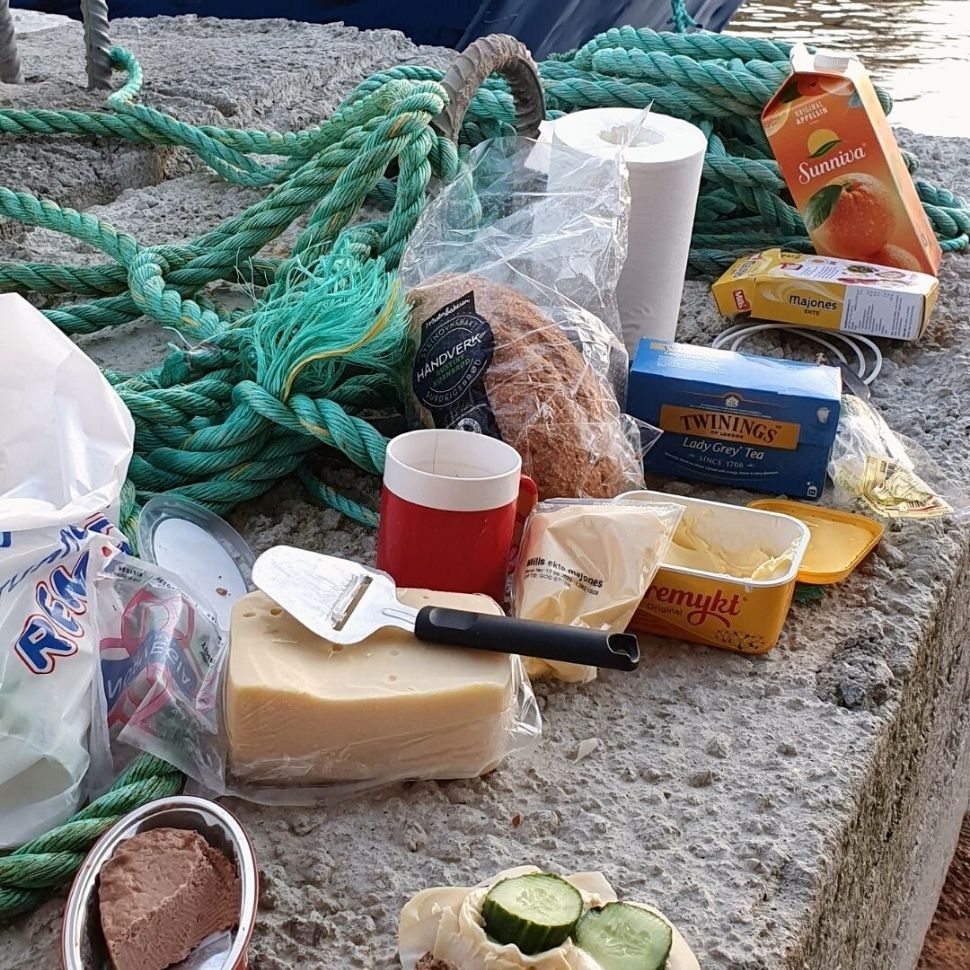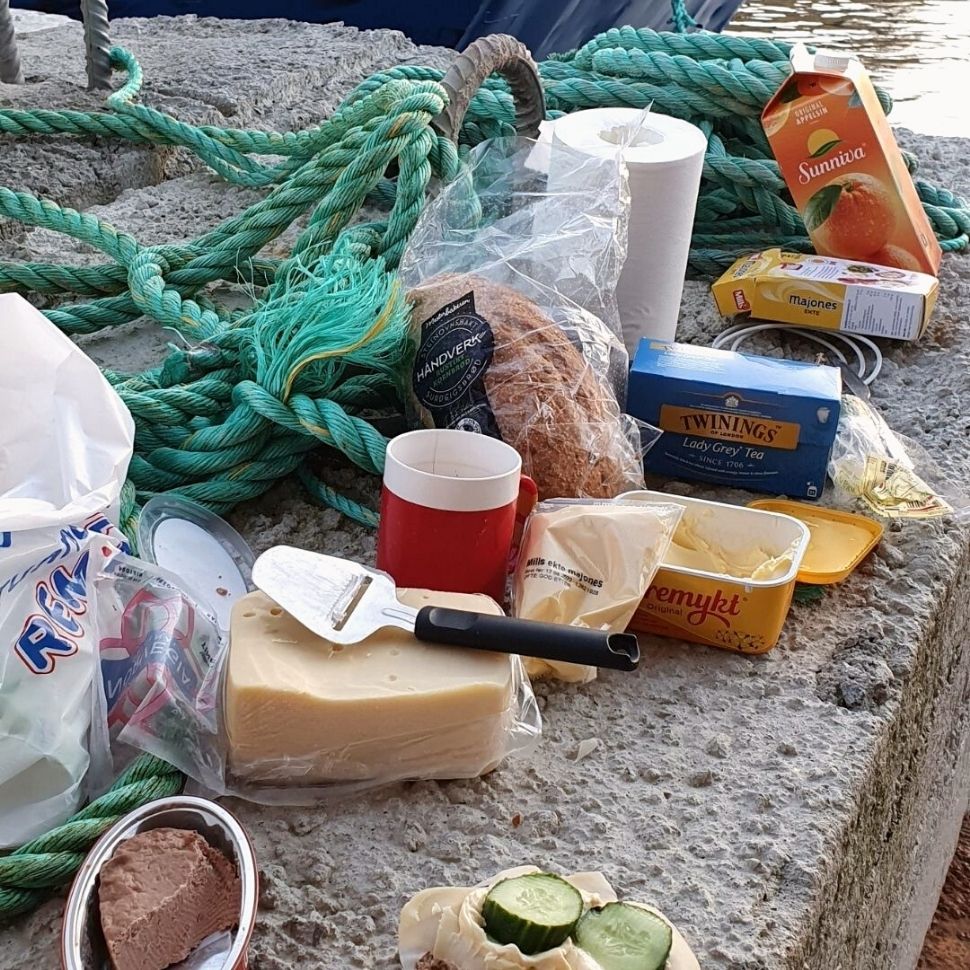 You eat your meals at locations available. Here at a fish farm dock side.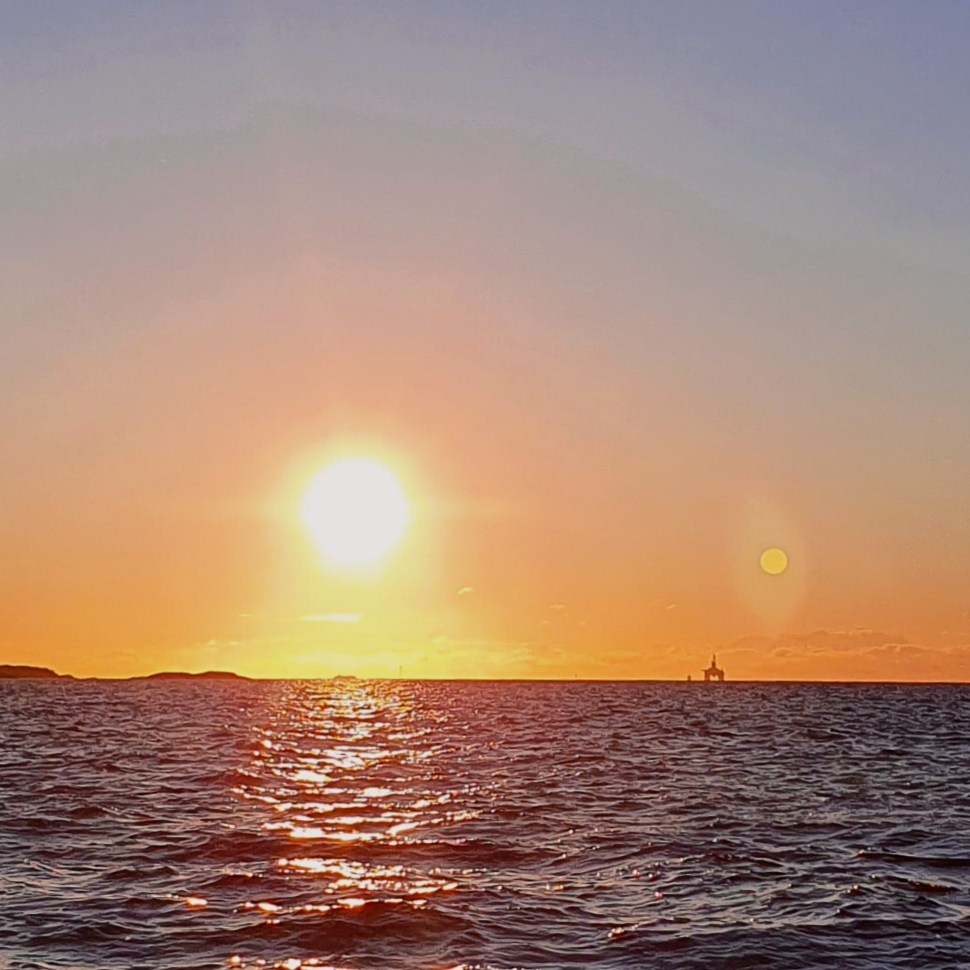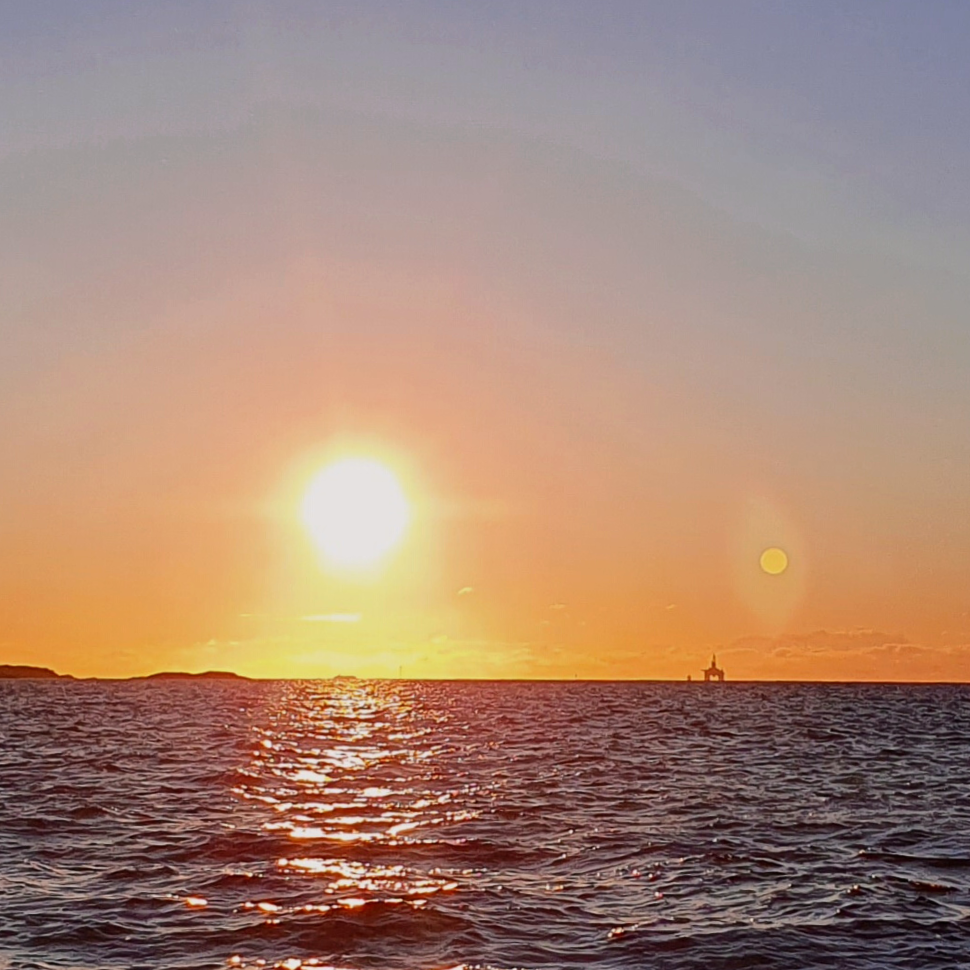 Trips like this always takes you closer to nature and the feeling of freedom.
Be the first to get Evoy news, product updates and events. Choose your options.