150 hp Outboard - Closing in!
We are as excited as you are about the upcoming launch of our brand new electric outboard Gale Force Series. We are getting closer by the day!
Image: Screenshot from Evoy Configurator 2.0
From the initial news released about the outboard, we've had a massive response from all over the world. From the specifications, the amount of hp, the torque, the design, and not the least the availability and price.
We will soon be able to reveal all the details to you as we are getting closer to the launch as announced next quarter. Despite the product launch not taken place yet, we've already sold out the first batch for delivery in early summer 2021 and we are now taking orders for batch #2 and #3. We are very humbled for the trust and aspiration for the product and how it has been received.
In order to ensure we have the best system setup available with the launch, we've been working hard to ensure the outboard is supported by the optimal battery pack available. We are happy to inform you that we will be releasing our brand-new Energy batteries in parallel. These batteries will have an energy density of 166 watt-hours per kg based on 2170 battery cells. We don't stop here; these new batteries will also be available with our inboard systems. This enables us to cut entry costs by 15% and an astonishing weight reduction of up to 40% of the batteries.
We strive to make electric boating the best experience possible and in doing so we seek to have the best performing components available working effortlessly together through our integrated systems. The energy consumption of boating, being to meet set speed targets or requiring high torques for power, is different from that of other electric vechicles. At first glance, going electric might seem more expensive. However, one needs to consider the cost of ownership. With our electric systems, there is less hassle with maintenance and expensive parts that need to be changed every season and electric power is at lower price points. With our outboard system, we typically find that the payback time for an active boater is less than four years, hence the initial investment is paid back multiple times in the lifespan of the system.
Lifespan savings for Evoy electric systems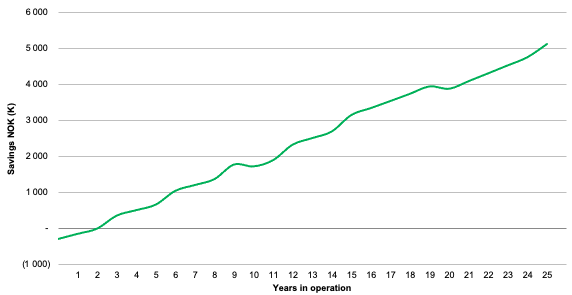 Example above for 600h yearly operations
We work hard to inform you all about our systems and their capabilities. The continuing growing interest from all over the world is greatly appreciated. In order to enable you all to get as much information about our systems in an efficient manner, we continue to enhance our product configurator available on our website.
We have just launched the next version Evoy Configurator 2.0 with enhanced functionality and updated product details providing you an even deeper insight into the latest product developments we've been working on.
Be the first to get Evoy news, product updates and events. Choose your options.