OUTBOARD ELECTRIC PROPULSION
The world's most powerful outboard motor.
Evoy's high-output electric outboard system is powerful beyond expectation with full torque from zero rpm. Be ready to turn heads on the water with this powertrain!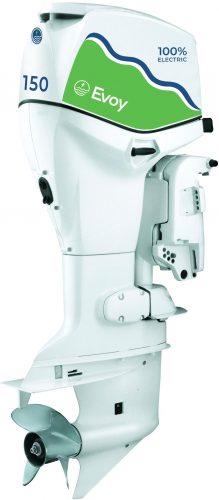 Evoy's electric outboard motor system has gained great international attention after it's announcement in March. It is a high-output motor best suited for boats 18-25 foot for single installments and 25-35 foot for double installments. The motor will be available as 150 HP, 300 HP and 450 HP. The first mentioned will be availble for delivery in Spring 2021 and Pre-Orders are now open.
No emissions, odors or sound
High-capacity DC fast charging
Typical 100-200 nm in slow speed
State-of-the-art security and logic system
WHEN WILL THE OUTBOARD MOTOR BE AVAILABLE IN MY COUNTRY ?
Europe delivery is expected for 2021, North America 2022 and the rest of the World in 2023.
The Evoy Outboard is planned with up to 11kW AC charger, with the option at 22kW. You have the option of High-capacity DC fast charging of up to 50kW where available. 
how long will the batteries last ?
The outboard batteries have been tested and approved according to strict CE safetyregulations. The batteries have IP 67 waterproofing and have been designed for 6.000 charging cycles with 80% DOD.
Range is highly dependent on speed and boat. With 50 kWh, you can expect between 15 and 30nm in plane hull speed. In 5 knots typically 12 hours or 24 hours in 3 kn.
WHAT ARE THE BENEFITS OF ELECTRIC PROPULSION ?
Silence, zero emissions and low operating costs are the core benefits. 
WHO CAN INSTALL THE OUTBOARD ON MY BOAT ?
Installation is completed at boatbuilders or for your current boat at Evoy approved boat yards. Contact us for more info.