Charging E-boats with 152kW
Wednesday 5th of May 2021 was a historic milestone for electric boating in Florø. The first supercharger in the world was opened on the west coast of Norway. The supercharger from PLUG is the first in a series planned along the Norwegian coast.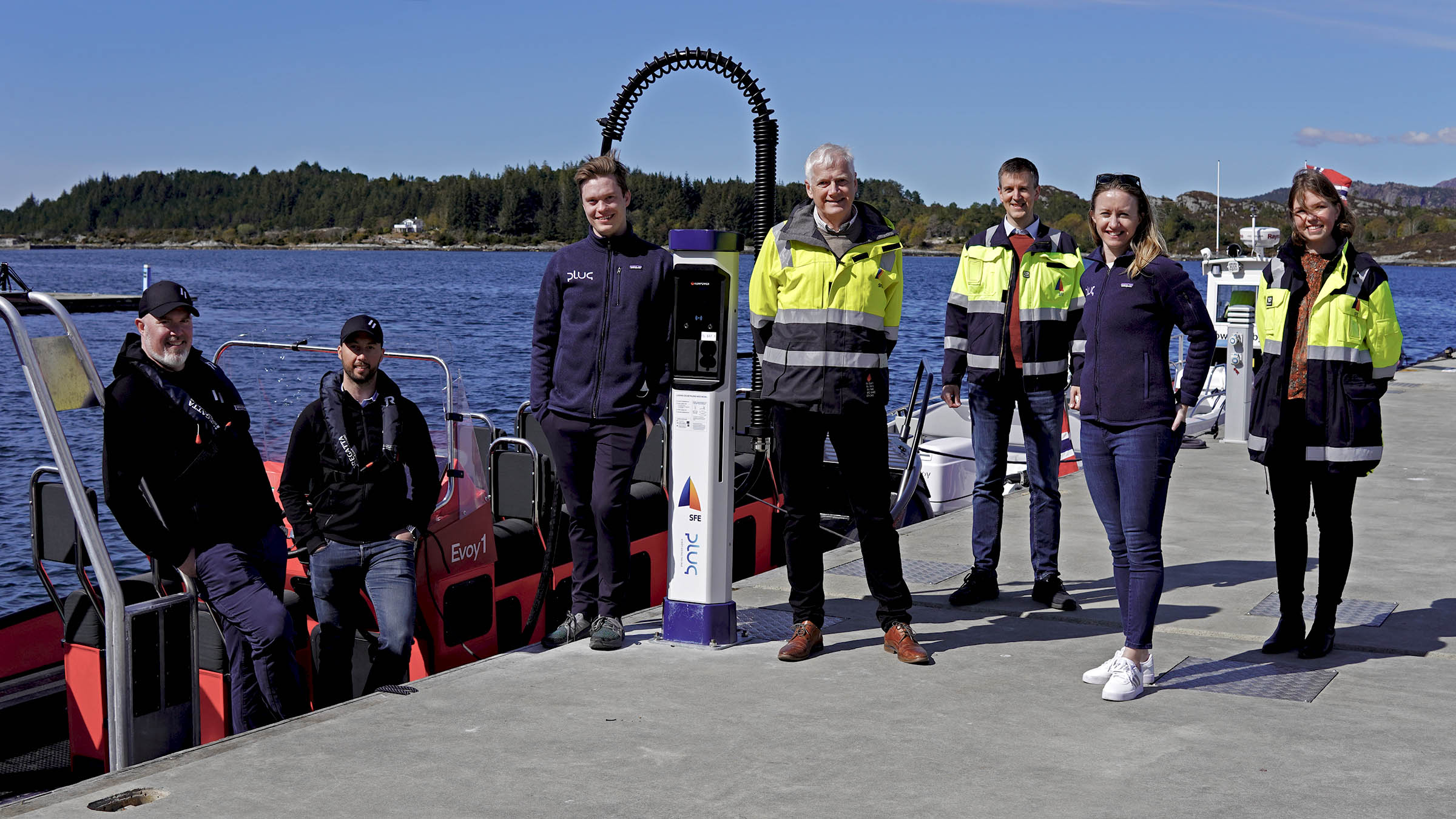 After a great team effort with late-night work, everyone has done an amazing job with the goal to have a working supercharge system ready for the opening in Florø. Three electric boats Powered by Evoy were ready to be supercharged in the marina making an amazing day to be remembered!
This has been a reality with the collaboration between several partners; Sogn og Fjordane Energi (SFE), BKK, Evoy, Kinn municipality, and Florø Hamn has enabled this to become a reality. The supercharger on the dock enables the charge of electric boats and cars at lightning speed with more than 150kW power!
Facilitates a sustainable and zero-emission footprint
"We intend to make our region climate-friendly, and electrification is an essential part of this project. Fossil systems can now be replaced with renewable energy, thereby contributing to the zero-emission society," says SFE.
The difference between a usual charger and a supercharger is differentiating the time of charge. (Allowed by DC plugs installed on boats).


Where regular charging from a plug at home for example can take hours, a supercharger on the other hand is "Lightening" fast. Fast chargers are offering between 40 to 150 kW, while the Florø charger has 150 kW power and can be used by anyone with an electric car or electric boat via a connected APP called "Bilkraft".

Learn more about the difference between AC and DC.
Image: The Evoy1 Electric Boat charging at the power of 152kW. 
The charger is equally owned between SFE and BKK. BKK intends to be the largest actor in electrification in Norway and focuses on both shore power for ships and maritime charging through PLUG, the subsidiary company. 
Electric boat revolution in Florø
Evoy has developed powerful electric motor systems for boats (150HP outboard and 450HP inboard), leading the way in the electric boat revolution. Florø would not have received the world's first electric supercharger for boats without Evoy and our CEO Leif A. Stavøstrand's fiery involvement.
A fast track for the E-Boating industry
In addition to allowing electric cars and recreational boats to charge, the superchargers are also essentials for workboats that switch to electric. In the Florø area, fish farming companies have invested in electric boats, like EVOY customer E.Karstensen. The charger was opened by County Mayor of Vestland Jon Askeland. Showing his interest towards potential market opportunities, this innovation may be the deciding driver for the E-Boat market growth for Western Norway and the boat-building nation, Norway.
Make sure to reach out with any questions and also check out E.Karstensen success story.
Be the first to get Evoy news, product updates and events. Choose your options.